Welcome to the world of chair upholstery, where Upholstery Pro will talk all about the most comfortable dining chairs! Creating a comfortable dining environment requires the proper seats. After all, who wants to eat something in such uncomfortable, uncozy chairs? This article will discuss stylish and comfortable dining chairs. Whether you prefer padded, upholstered, wooden, metal or cane/wicker chairs – we've got you covered! Let's find the right dining chair for you.
The Most Comfortable Dining Chairs
Everyone has different preferences regarding comfort, so take time to try out various styles before deciding. When finding the most comfortable dining chairs, there are some factors to consider.
First and foremost is the level of padding. Chairs with generous cushioning provide extra support and help prevent discomfort during long meals or gatherings.
The chair's backrest is also essential. Look for seats with lumbar support for maximum comfort.
Whether it's a high-back chair that cradles your spine or a mid-back option that allows for more flexibility, finding the right backrest style can make all the difference.
Additionally, consider the seat depth and width. Chairs with wider seats allow for more freedom of movement while dining, ensuring you don't feel cramped or restricted. Adjustable seating options are also worth exploring if you want customizable comfort.
Pay attention to materials used in construction. Soft fabrics like velvet or microfiber can add extra coziness to your dining experience. Leather upholstery offers durability and sophistication but may require regular maintenance.
Dining Chair Styles: Finding the Perfect Fit for Your Space
When it comes to dining chair styles, there are many options. Each type suits diverse preferences and purposes with its distinct flair and practicality. Let's examine several popular dining chairs and their optimum uses.
Padded Dining Chairs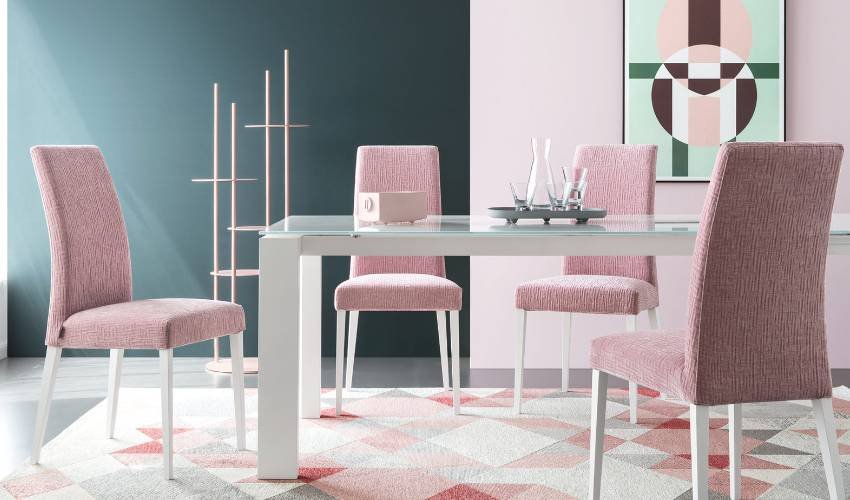 These chairs feature cushioned seats and backs, providing comfort during long meals or gatherings. They are perfect for those who prioritize comfort without compromising on style. Padded dining chairs work well in formal and casual settings, adding a touch of elegance while ensuring maximum coziness.
Velvet Upholstered Dining Chairs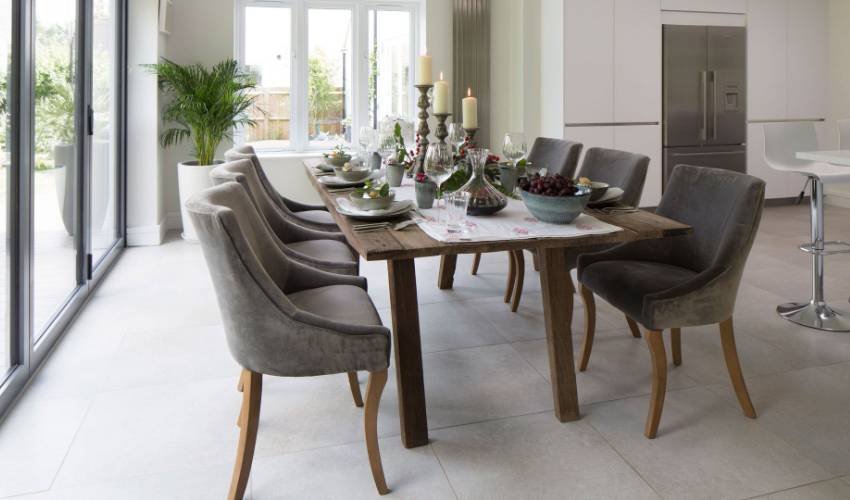 With fabric-covered seats and backs of velvet plush beautiful fabric, These upholstered dining chairs create a marvelous, opulent look. They're perfect for a cozy dining room. However, upholstered chairs may need additional upkeep to prevent their low life relevant to fast discoloration and wearing and tearing.
 Wooden Dining Chairs
Known for their durability and timeless appeal, wooden dining chairs can complement various decor styles effortlessly. From rustic farmhouses to sleek contemporary, wood gives warmth and character to every home. Remember that wooden chairs may provide less cushioning than padded or upholstered options.
Metal Dining Chairs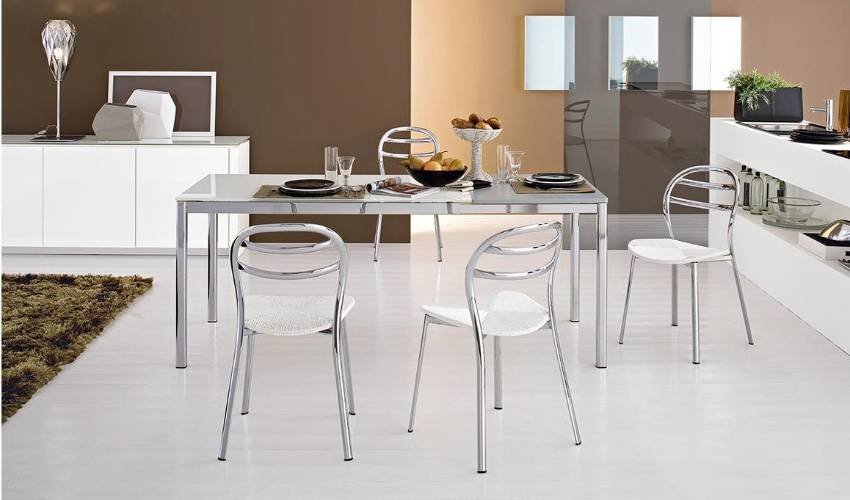 Metal dining chairs might be the perfect choice if you want a modern and minimalist vibe. These lightweight yet sturdy chairs come in various finishes like stainless steel or powder-coated iron. While they offer sleek aesthetics with easy cleaning benefits, they may provide less comfort during longer periods of sitting.
Cane/Wicker Dining Chairs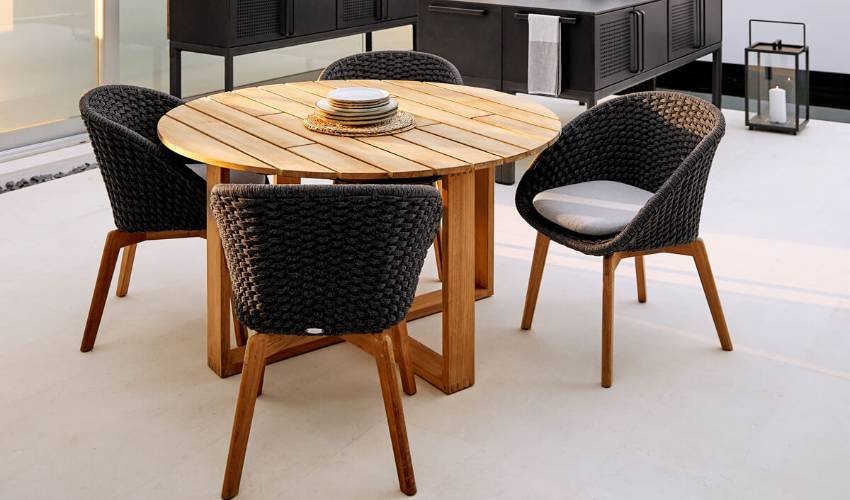 Cane or wicker dining chairs create an airy ambiance with natural materials for those seeking a tropical or coastal-inspired look. These lightweight options add texture and visual interest while being relatively comfortable; however, prolonged use may lead to discomfort if additional padding is lacking.
 Padded Dining Chairs 
When it comes to comfort, padded dining chairs are a popular choice. These chairs provide additional comfort and support for extended dinners and family gatherings. Different types of padded dining chairs are available, each with unique features.
One type of padded dining chair is the upholstered chair. These chairs offer refinement to any dining room with fabric or leather upholstery. They provide excellent comfort and are great for creating a cozy atmosphere.
Upholstered dining chair
Featuring a padded seat and backrest, this elegant chair offers luxurious comfort for extended dinner parties, making every meal a delightful experience.
Tufted dining chair
With its plush padding and tufted details, this padded chair adds a touch of sophistication to your dining area while providing optimal comfort during meals.
Modern dining chair
This sleek and padded chair combines contemporary design with cushioned comfort, making it a stylish addition to any dining room setting.
Leather dining chair
Crafted with padded leather upholstery, this dining chair offers a combination of timeless elegance and comfortable seating for memorable dining experiences.
Armless dining chair
Featuring a padded seat and back, this armless chair provides versatile seating options around the dining table while offering optimal comfort and support for guests.
Cushioned Back Chair
Another is the padded back chair. These chairs have cushioned backrests and seats. This design offers superior spine support, providing long-term sitting comfort.
Recliner
A plush chair with a reclining backrest, perfect for lounging and providing maximum comfort while watching TV or reading a book.
Rocking chair
This chair has a curved base and a gentle rocking motion, while its cushioned back offers support, making it ideal for relaxation and soothing moments.
Accent chair
This fashionable chair is aesthetically pleasing and functionally useful because of its cushioned backrest.
Executive chair
This cushioned back chair is designed for office use and offers ergonomic support to promote proper posture and reduce back strain during long work hours.
Papasan chair
Known for its circular shape and large cushioned seat, this chair provides a cozy and inviting space to relax, unwind, and enjoy leisure activities.
Slipcovered Dining Chair
Consider getting a slip-covered dining chair if you prefer a more casual look. Slipcovers can easily be removed and washed, making them practical for families with children or frequently changing their decor.
Budget Friendly Slip Cover Chairs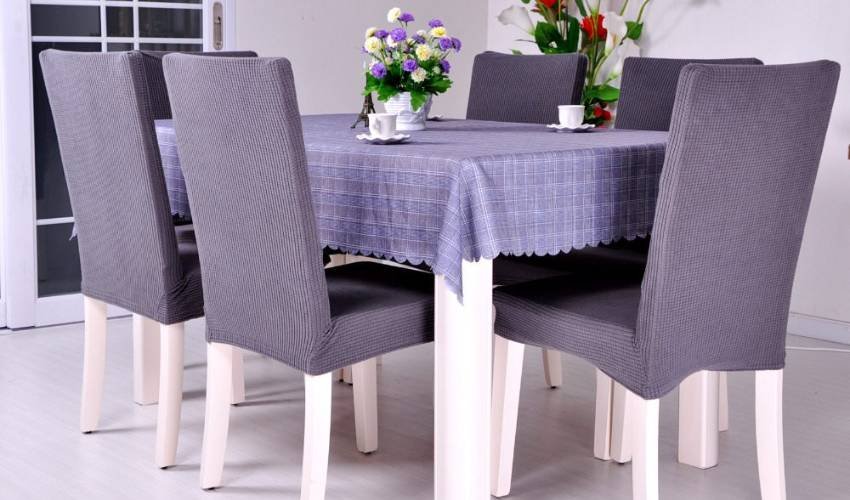 While padded dining chairs offer comfort, they may only suit some people's needs. Bulky cushioned seats may occupy too much space in a small dining room. Additionally, non-padded options might be better suited if you prefer a minimalist design or want something more lightweight and easy to move around.
Basic Slipcover Dining Chair
An easy-to-clean, low-cost alternative for protecting your dining room chairs from spills and stains, slipcovers are a great choice.
Chair With a Stretchy Covering
These inexpensive slipcovers are made from a flexible fabric that will fit snugly over your dining room chairs, protecting them from daily use and looking great.
Dining Chair With a Decorative Covering
Patterned slipcovers are available for dining chairs at reasonable costs, enabling you to update your dining room without breaking the bank.
DIY Slipcover Dining Chair
These slipcovers can be easily adjusted to suit a wide range of chair shapes and sizes, making them a cheap and convenient method to give your dining area a facelift.
You can make your own slipcovers for dining chairs with ingenuity and thrift. You can easily customize and defend your chairs with some fabric and sewing abilities.
How to Choose the Right Dining Chair for You?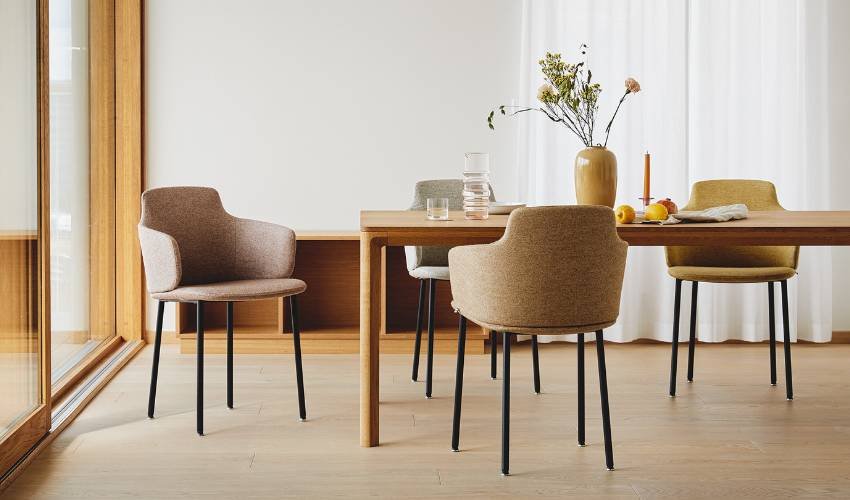 The initial consideration should be your comfort level. Do you prefer a chair with padding or upholstery for added cushioning? Or do you enjoy the feel of a wooden chair that provides a more firm seating experience?
Next, take into account the style and aesthetic of your dining space. Do you want to seem trendy and chic? The finest dining chairs may be metal. Do you prefer something more rustic or traditional? Wooden chairs can bring warmth and charm to your dining area.
Consider your table size. Choose seats appropriate to the table and with adequate room for comfort.
Remember durability and maintenance. Easy-to-clean materials like metal or plastic may be preferable over upholstered options if you have young children or pets.
Upholstered Dining Chairs Adding Comfort and Style to Your Dining Space!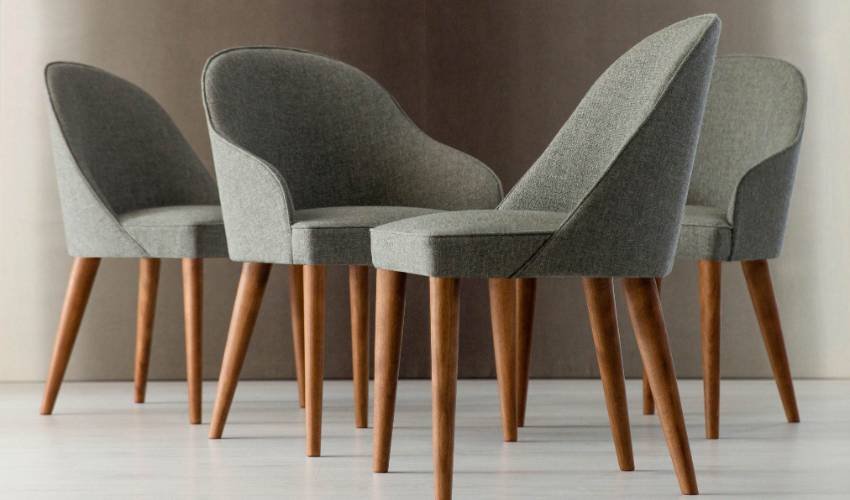 Looking for comfortable, stylish dining chairs? Just consider upholstered dining chairs! Padded seats and backs make these chairs pleasant for long periods of sitting. Your dining room looks more elegant with the upholstery.
Your choices and demands determine the kind of upholstered dining chair. The tufted upholstered chair with button embellishments on the backrest is popular. Slip-covered chairs allow you to alter the fabric cover to adapt your design.
For comfort during meals and extended conversations, upholstered dining chairs are ideal. The padded chairs support your back, making them comfortable after hours of usage. These chairs also bring coziness to formal and informal eating rooms.
Upholstered dining chairs may not fit households with little children or pets.
Regular cleaning is needed for fabric upholstery, which may stain. If your house has frequent spills or dogs that lose fur, stain-resistant materials or removable/washable covers may be preferable.
Wooden Dining Chairs Classic Elegance and Durability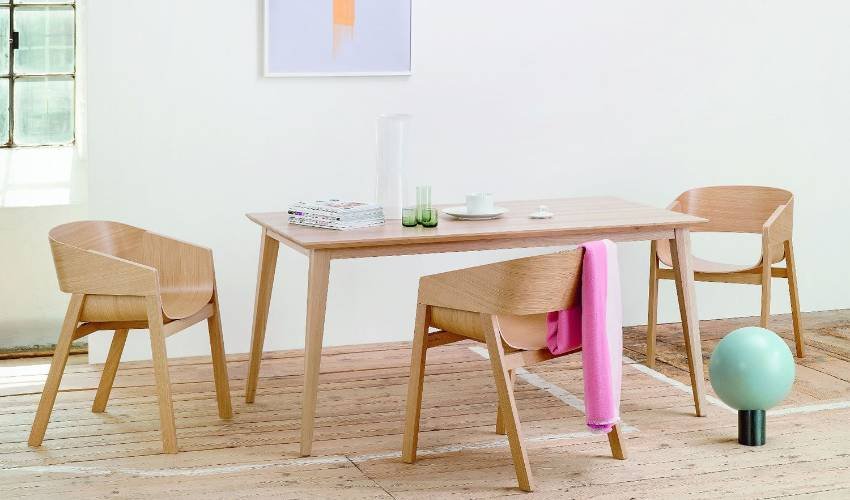 Timeless wooden dining chairs bring warmth and class to any eating environment. With many options, you can pick a wooden chair that matches your decor.
 Solid Wood Chairs 
These chairs are made from one piece of wood for unrivaled endurance. Family and busy households benefit from them.
 Windsor Chairs 
Known for their distinctive spindle backrests and sculpted seats, they blend traditional charm with comfort. They are great for farmhouse or rustic-inspired interiors.
Mid-Century Modern Chairs 
Featuring sleek lines and minimalist designs, modern wooden chairs bring a touch of retro elegance to your dining area while providing comfortable seating options.
 Bentwood Chairs
Made by bending thin strips of wood into curved shapes, bentwood chairs offer both flexibility and strength. Their fluid curves lend an artistic flair to contemporary spaces.
While wooden dining chairs exude natural beauty and robustness, they may not be suitable for everyone's preferences or needs
Avoid extended moisture exposure for outdoor use as it might harm the wood.
Some people may find them less cushioned than padded or upholstered options.
Hardwood chairs may be heavier than metal or plastic if you like lightweight, portable furniture.
In Conclusion
Consider comfort, style compatibility with your home design theme, durability, and material feel preferences when purchasing dining chairs. Upholstered dining chairs provide style and comfort to any dining room. Whether you like tufted or slipcovered styles, these chairs are welcoming for meals and talks at the table. So why sacrifice comfort? Enjoy luxury comfort and elegance with upholstered dining chairs!