Durable upholstery is vital for dining room furniture. Dining chairs add style to your dining room and provide a comfortable eating place. These chairs are used often and may get stained during family gatherings and friend dinners. Therefore, pick upholstery fabric that can tolerate everyday use. This article by Upholstery Pro discusses excellent dining chairs and the most typical upholstery materials. We'll also explain FADE, an abbreviation for durable upholstery fabric selection considerations. Let's learn how to choose the best upholstery fabric for dining room chairs!
Attributes of Quality Dining Chairs
There are various characteristics that distinguish the best dining chairs from the rest. Prim and foremost, comfort is essential. A well-designed dining chair should provide sufficient back support and have a cushioned seat to ensure a pleasant dining experience.
The most crucial aspect of quality dining chairs is their durability. These chairs are frequently used, so they must be constructed to withstand the test of time. Consider frames made of high-quality materials like substantial wood or metal.
When choosing dining chairs, aesthetics are as crucial as comfort and durability. The design should complement your interior's overall style and reflect your preferences. There are innumerable options available to accommodate your aesthetic preferences, regardless of whether you prefer modern minimalism or traditional elegance.
Consider the size and proportions of the dining chairs and the dimensions of your table and dining room. Ensure they fit adequately around the table without cluttering the space or making it feel claustrophobic.
In addition to aesthetics, functionality is essential when buying dining room chairs. They should be simple to clean and maintain, particularly if you have young children or frequently host parties with spillage.
By keeping these characteristics in mind, you can make a well-informed choice when selecting high-quality dining chairs that will enhance the attractiveness and comfort of your dining area.
Commonly Used Fabrics for Dining Chair Upholstery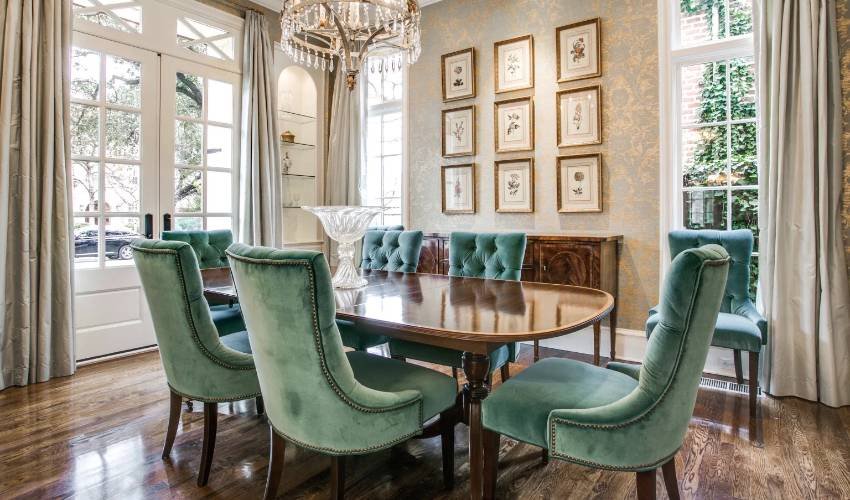 When selecting upholstery fabric for dining room chairs, you should search for something that not only appears good but also endures the test of time. Numerous commonly used fabrics prove to be an ideal match.
Popular materials include microfibre. This synthetic material is durable and stain-resistant, making it excellent for spill-prone dining seats. Microfiber gives comfort to your furniture and a velvety, sumptuous feel.
Popular alternatives include leather and synthetic leather. Leather upholstery provides any dining room with a classic and refined appearance. It is extremely resilient and simple to clean; you can wash away any stains with a moist cloth. Synthetic leather offers a comparable appearance at a lower cost.
If you prefer upholstery fabrics with more texture, consider selecting woven or tweed fabrics. The close weave of these fabrics provides exceptional resistance to wear and tear, making them both stylish and long-lasting.
Cotton or linen can make great dining chair upholstery for eco-conscious shoppers. These fabrics are breathable, comfy, and come in many colors and designs to match your home decor.
The optimal choice of fabric depends on your individual aesthetic and maintenance preferences. Considering factors such as durability, stain resistance, cleaning simplicity, and desired style, you can select an upholstery material that will keep your dining chairs appearing new for years.
What Is FADE When Selecting Upholstery Fabric For Dining Room Chairs? 
Selecting the proper upholstery material for your dining room chairs ensures their durability and longevity. FADE, which stands for Fabric Type, Abrasion Resistance, Durability Rating, and Ease of Cleaning, is an acronym that is useful to remember when selecting fabric.
Fabric Type
The variety of fabric you select will significantly affect its efficacy. Cotton, linen, polyester blends, and microfiber are typical fabrics for dining chair upholstery. Each has distinct qualities, including breathability, stain resistance, and texture.
Abrasion Resistance 
Because of constant usage, dining room chairs wear out quickly. Fabrics with excellent abrasion resistance are recommended in settings where sitting and standing are frequent.
Durability Rating
Consider the fabric's overall durability rating in light of your specific requirements. Some fabrics are more suitable for low-traffic areas, whereas others can withstand intensive use without rapidly exhibiting evidence of deterioration.
Ease Of Cleaning
During meals, dining chairs are susceptible to discoloration and spillage. Choosing a stain-resistant fabric that is simple to clean can greatly simplify your life. Consider fabrics with stain-resistant coatings or those that can be spot-cleaned readily.
By contemplating the FADE acronym when selecting upholstery fabric for dining room chairs, you can make an informed decision to ensure both the design and longevity of your home furnishings.
Suggestions for Selecting Resilient Upholstery Fabric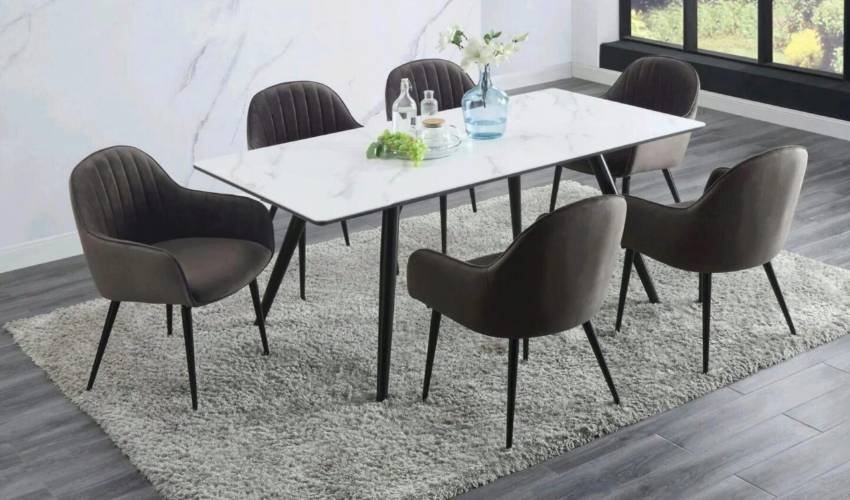 It is essential to select resilient upholstery fabric for dining room chairs to ensure the longevity and functionality of your furniture. You can make an informed decision that will improve the aesthetic appeal and durability of your dining room chairs by considering the characteristics of quality dining chairs, understanding commonly used fabrics, and following some guidelines for selecting durable upholstery. When it comes to selecting durable upholstery fabric for your dining room chairs, there are some guidelines that can assist you.
Assess the fabric's composition first. Cotton and linen are more durable than polyester and rayon. Look for textiles with a high abrasion count, indicating wear and stain resistance.
Next, consider the fabric's color and pattern. Darker colors and intricate patterns are better at concealing stains and evidence of wear than brighter colors and solids. Consider selecting a fabric with a finish resistant to stains for added protection.
Maintenance is another essential factor to consider. Consider upholstery fabrics that are simple to maintain and clean. Fabrics with removable covers can be an excellent choice because they can be removed and cleaned separately.
Don't overlook comfort! While durability is essential, dining room chairs should also be comfortable for long seating. Examine various fabrics by handling them and, if possible, reclining on samples.
By keeping these tips in mind when selecting upholstery fabric for dining room chairs, you can select a durable option that looks great and withstands daily use without exhibiting signs of wear too rapidly.
In Conclusion
When shopping for dining room chair upholstery fabric, follow these steps to discover a long-lasting solution that fulfills all your aesthetic and practical needs. If you want to make your furniture last for a long time, investing in high-quality materials today will save you money later. Thus, researching options is vital before making a selection. With choosing a good upholstery fabric and appropriate upkeep, your dining room chairs can last for years and beautify your dining area.